Marina is surrounded by food, and it also occupies many of her passing thoughts. Today is Saint John's Day, and the hottest and longest day of the summer. Her mother has baked a chocolate cake to celebrate.

In competition for Best International Short.
Program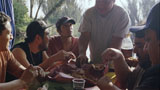 Hidden desires and private aspirations come to light in this selection of intimate shorts. Who we are isn't always how we present ourselves.
Tuesday, June 22 9:00 AM PT
film details
| | |
| --- | --- |
| Director: | Clàudia Vernis |
| Producers: | Clàudia Vernis, Marc Muñoz |
| Screenwriter: | Clàudia Vernis |
| Cinematographers: | Xavi Oliva |
| Editor: | Beatriz Ortíz Mariño |
| Cast: | Marina Segarra |
| Original Language Title: | Sense Postre |
| Country: | Spain |
| Language: | in Catalan with English subtitles |
| Deaf Friendly: | Yes |
| Year: | 2020 |
| Running Time: | 13 minutes |
| Primary Company: | Freak Agency |
| Contact Email: | internacional@agenciafreak.com |