Twelve-year-old boxer Meryland Gonzalez trains for the 2019 Junior Olympics, after losing the 2018 competition, while reliving a past medical trauma that forces her to fight for her life. Meanwhile, her parents, immigrants from Michoacán, work tirelessly to give their miracle child a shot at achieving her dreams.

In competition for Best Student Documentary Short.
Program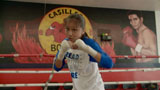 The bonds of family transcend time, politics and finances. Through thick and thin, we're in each other's business 'til death us do part.
Saturday, June 26 9:00 AM PT
film details
| | |
| --- | --- |
| Director: | Gabriel Gaurano |
| Producers: | Gabriel Gaurano, Julia Elihu | Co-Producer: Jason Phillips |
| Cinematographers: | Gabriel Gaurano |
| Editor: | Gabriel Gaurano |
| Music: | PHAR (Raphaël Dargent) |
| Cast: | Meryland Gonzalez, Jorge Gonzalez, Araceli Gonzalez, Georgette Gonzalez, Araceli Jr. Gonzalez |
| Country: | USA |
| Language: | in English/Spanish with English subtitles |
| Year: | 2021 |
| Running Time: | 28 minutes |
| Awards: | Best Student Short, Thin Line Film Festival; FilmSlam Best Short, Cleveland International Film Festival |
| Contact Email: | gabegaurano@gmail.com |
| Website: | https://www.teammerylandfilm.com/ |