A young filmmaker's decade-long struggle to make a movie out of his grandfather's Algerian war souvenirs unearths painful truths for them both.

In competition for Young Cineastes Award and Best Animated Short.
Program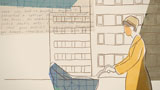 From personal to shared histories, this collection of films looks at the stories that shape us—the politics, the moments, the people.
Sunday, June 27 9:00 AM PT
film details
| | |
| --- | --- |
| Director: | Bastien Dubois |
| Producers: | Amiel Tenenbaum |
| Screenwriter: | Bastien Dubois |
| Cinematographers: | | Animators: Lucas Morandi, Mathilde le Moal, Mylene Cagnoli, Myrtille Pautet, Kelsi Phung, Julie Bousquet, Olivier Ladeuix, Léa Bancelin, Laure Clemansaud, Christophe Congard, Charles Ouvrard, Fabien Corre, Gabriel Jacquel, Thomas Machart, Gilles Cuvelier, Claire Trolle |
| Editor: | Lucas Morandi, Mathilde le Moal, Mylene Cagnoli, Myrtille Pautet, Kelsi Phung, Julie Bousquet, Olivier Ladeuix, Léa Bancelin, Laure Clemansaud, Christophe Congard, Charles Ouvrard, Fabien Corre, Gabriel Jacquel, Thomas Machart, Gilles Cuvelier, Claire Trolle |
| Music: | Anetha, Vandy Roc, Antonio Vivaldi, John Hunter Jr., Jonathan Slott |
| Country: | France |
| Language: | in French with English subtitles |
| Deaf Friendly: | Yes |
| Year: | 2020 |
| Running Time: | 15 minutes |
| Awards: | Short Film Jury Award: Animation, Sundance Film Festival; Grand Jury Prize, Seattle International Film Festival; Best Animation SACD Award, Clermont-Ferrand International Short Film Festival |
| Primary Company: | Miyu Distribution |
| Contact Email: | festival@miyu.fr |