Growing up in Oakland's hip-hop culture and playing on the high school basketball team makes it difficult for Eng to identify with her Chinese-American roots. As her sophomore year of high school comes to an end, Eng tries to find a sense of belonging within the two worlds that don't accept her.

In competition for Young Cineastes Award.
Program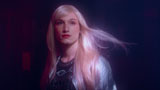 With the odds stacked firmly against them, the longshot protagonists of these shorts must surmount tough obstacles and face down bitter rivals.
Saturday, June 26 5:30 PM PT
film details
| | |
| --- | --- |
| Director: | Erica Eng |
| Producers: | Simran Mahal |
| Screenwriter: | Erica Eng |
| Cinematographers: | Drew Daniels |
| Editor: | Bowei Yue |
| Music: | Aiko Fukushima |
| Cast: | Terry Hu, Amber Gaston |
| Country: | USA |
| Language: | in English |
| Year: | 2020 |
| Running Time: | 17 minutes |
| Awards: | Best Drama Short, Cinequest |
| Contact Email: | erica@ericaeng.com |
| Website: | https://www.ericaeng.com/americanized |