Ameena, a Pakistani immigrant, wakes up on Eid to find out that she has to go to school. Homesick and heartbroken, she goes on a mission to make Eid a public-school holiday. In the process, she reconnects with her older sister and embraces her new home, while her new home embraces her.

In competition for Local Jury Award.
Program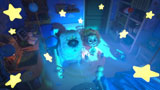 Films for kids and the young at heart, this mix of family-friendly fare features a variety of animated and live-action tales.
Saturday, June 26 10:30 AM PT
film details
| | |
| --- | --- |
| Director: | Aqsa Altaf |
| Producers: | Leslie Owen |
| Screenwriter: | Aqsa Altaf |
| Cinematographers: | Sidney Unga |
| Editor: | Nick Houy |
| Music: | Siddhartha Khosla |
| Cast: | Shanessa Khawaja, Jenna Qureshi, Cash Herrera, Fazeelat Aslam, Ismail Bashey |
| Country: | USA |
| Language: | in English/Urdu with English subtitles |
| Year: | 2021 |
| Running Time: | 20 minutes |
| Primary Company: | The Walt Disney Studios |
| Contact Email: | Arianna.garcia@disney.com |
| Website: | https://launchpad.disney.com/ |