While transitioning, Matia struggles with finding a genuine, intimate relationship with a heterosexual man.

In competition for Best LGBT+ Short and Best Animated Short.
Program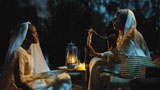 Forging their own way in a world too slow to adapt, the women of these shorts challenge gender norms and live life on their own terms, whether in a fishing village in Brazil or a beauty parlor in Tunisia.
Tuesday, June 22 1:00 PM PT
film details
| | |
| --- | --- |
| Director: | Marko Dješka |
| Producers: | Drasko Ivezic |
| Screenwriter: | Marko Dješka |
| Cinematographers: | Animators: Hana Tintor, Laura Martinovic, David Lovric, Marko Djeska, Drasko Ivezic |
| Editor: | Marko Dješka |
| Music: | Sofie Birch, Gustavo Lima |
| Cast: | Matia Anna Pleše |
| Original Language Title: | Sve te senzacije u mom trbuhu |
| Country: | Croatia/Portugal |
| Language: | in Croatian with English subtitles |
| Deaf Friendly: | Yes |
| Year: | 2020 |
| Running Time: | 13 minutes |
| Awards: | Best Film: Balkan Competition, Anibar International Animation Festival |
| Primary Company: | Bonobostudio |
| Contact Email: | vanja@bonobostudio.hr |
| Website: | https://www.facebook.com/sensationsinmybelly |