The battle for accessibility in the New York City subway told by those fighting it.

In competition for Local Jury Award and Best Student Documentary Short.
Program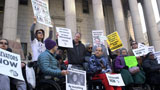 From the pandemic to racial justice and beyond, this program of documentaries shines a spotlight on the individuals and communities bearing witness to a changing world and fighting for a better future.
Saturday, June 26 2:30 PM PT
film details
| | |
| --- | --- |
| Director: | Victor Dias Rodrigues |
| Producers: | Branton Choi, Victor Dias Rodrigues |
| Cinematographers: | Eli Kravetz, Elizabeth Vrkljan, Victor Dias Rodrigues | Animator: Charlene Xu |
| Editor: | Victor Dias Rodrigues, Heidi Gelover |
| Music: | Grady Tesch |
| Cast: | Sasha Blair-Goldensohn, Robert Acevedo, Michael Acevedo, Harvey Epstein, James Weisman |
| Country: | USA |
| Language: | in English |
| Year: | 2021 |
| Running Time: | 15 minutes |
| Primary Company: | Chalice Films |
| Website: | https://www.instagram.com/allridersdoc/?hl=en |