In a cotton-farming village in Sudan, 15-year-old Nafisa has a crush on Babiker, but her parents have already arranged her marriage to a young businessman living abroad. Meanwhile, Nafisa's grandmother Al-Sit, the powerful village matriarch, has her own plans for Nafisa's future. Caught between two rigid traditions, Nafisa must find a way to forge her own path.

In competition for Best of the Festival Award, Best Live-Action Short Over 15 Minutes, and Young Cineastes Award.
Program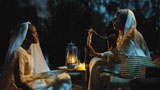 Forging their own way in a world too slow to adapt, the women of these shorts challenge gender norms and live life on their own terms, whether in a fishing village in Brazil or a beauty parlor in Tunisia.
Tuesday, June 22 1:00 PM PT
film details
| | |
| --- | --- |
| Director: | Suzannah Mirghani |
| Producers: | Suzannah Mirghani, Rodney Sharkey, Julietta Mirghani, Eiman Mirghani, Maysaa Almumin |
| Screenwriter: | Suzannah Mirghani |
| Cinematographers: | Khalid Awad |
| Editor: | Abdelrahim Kattab, Suzannah Mirghani |
| Cast: | Mihad Murtada, Rabeha Mahmoud, Mohammed Magdi, Haram Basher, Alsir Mahjoub |
| Original Language Title: | الست |
| Country: | Sudan/Qatar |
| Language: | in Arabic with English subtitles |
| Deaf Friendly: | Yes |
| Year: | 2020 |
| Running Time: | 20 minutes |
| Awards: | Canal+ Award, Clermont-Ferrand International Short Film Festival; Grand Prix, Tampere Film Festival; Excellence in Women's Filmmaking Award, European Independent Film Festival; Jury Prize, Busan International Short Film Festival |
| Contact Email: | suzannahmirghani@gmail.com |