Tunis, November 2019. A group of women is gathered at the local hairdresser's on the eve of the presidential election. The salon is transformed into a town square, mirroring the internal turmoil of the country. In this female sanctuary, we get an intimate look at the county's teenage democracy.

In competition for Best Documentary Short.
Program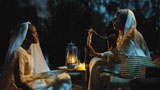 Forging their own way in a world too slow to adapt, the women of these shorts challenge gender norms and live life on their own terms, whether in a fishing village in Brazil or a beauty parlor in Tunisia.
Tuesday, June 22 1:00 PM PT
film details
| | |
| --- | --- |
| Director: | Sarra El Abed |
| Producers: | Isabelle Grignon-Francke |
| Screenwriter: | Sarra El Abed |
| Cinematographers: | Catherine Lefebvre |
| Editor: | Jordan Choinière |
| Music: | Ilyaa Ghafouri |
| Original Language Title: | Y'a pas d'heure pour les femmes |
| Country: | Canada |
| Language: | in Arabic/French with English subtitles |
| Deaf Friendly: | Yes |
| Year: | 2020 |
| Running Time: | 19 minutes |
| Primary Company: | Travelling |
| Contact Email: | festival@travellingdistribution.com |