Upon arriving at the After-Life Service for souls returning to earth, Gaspard just wants to be reincarnated as a beautiful peacock. If only he had enough karma points.

In competition for Best Student Animated Short.
Program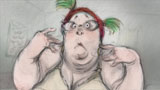 A unique collection of animated films that run the gamut – from moving, hilarious, and strange – and always visually evocative.
Thursday, June 24 9:45 AM PT
film details
| | |
| --- | --- |
| Director: | Coline César, Florent Chaput, Steven Lecomte, Claire Maury, Emilie Milcent, Sophie Payan |
| Screenwriter: | Coline César, Florent Chaput, Steven Lecomte, Claire Maury, Emilie Milcent, Sophie Payan |
| Cinematographers: | Coline César, Florent Chaput, Steven Lecomte, Claire Maury, Emilie Milcent, Sophie Payan |
| Editor: | Coline César, Florent Chaput, Steven Lecomte, Claire Maury, Emilie Milcent, Sophie Payan |
| Music: | Jeffrey Brice |
| Cast: | Gersende Michel, Antoine Nouel, Antoine Perrichon, Matteo Rivière |
| Original Language Title: | Service Après Vie |
| Country: | France |
| Language: | in French with English subtitles |
| Deaf Friendly: | Yes |
| Year: | 2020 |
| Running Time: | 6 minutes |
| Primary Company: | ESMA |
| Contact Email: | coline@ecolescreatives.com |