A pupil enters his new class for the first time. This pupil however is different from the others, he's a frog in a class of rabbits.

In competition for Best Animated Short.
Program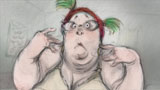 A unique collection of animated films that run the gamut – from moving, hilarious, and strange – and always visually evocative.
Thursday, June 24 9:45 AM PT
film details
| | |
| --- | --- |
| Director: | Eric Montchaud |
| Producers: | Luc Camilli, Nicolas Burlet |
| Screenwriter: | Eric Montchaud, Cécile Polard |
| Cinematographers: | Nadine Buss | Animators: Patricia Sourdes, Pierre-Luc Granjon, Cécile Milazzo, Eric Montchaud, Chloé Sorin |
| Editor: | Santi Minasi |
| Music: | Pierre Bastien |
| Cast: | Loïc Burkhardt |
| Original Language Title: | Un caillou dans la chaussure |
| Country: | France/Switzerland |
| Language: | No Dialogue |
| Year: | 2020 |
| Running Time: | 11 minutes |
| Premiere Status: | North American Premiere |
| Primary Company: | Xbo Films |
| Contact Email: | diffusion@xbofilms.com |