Insta-Photo Scavenger Hunt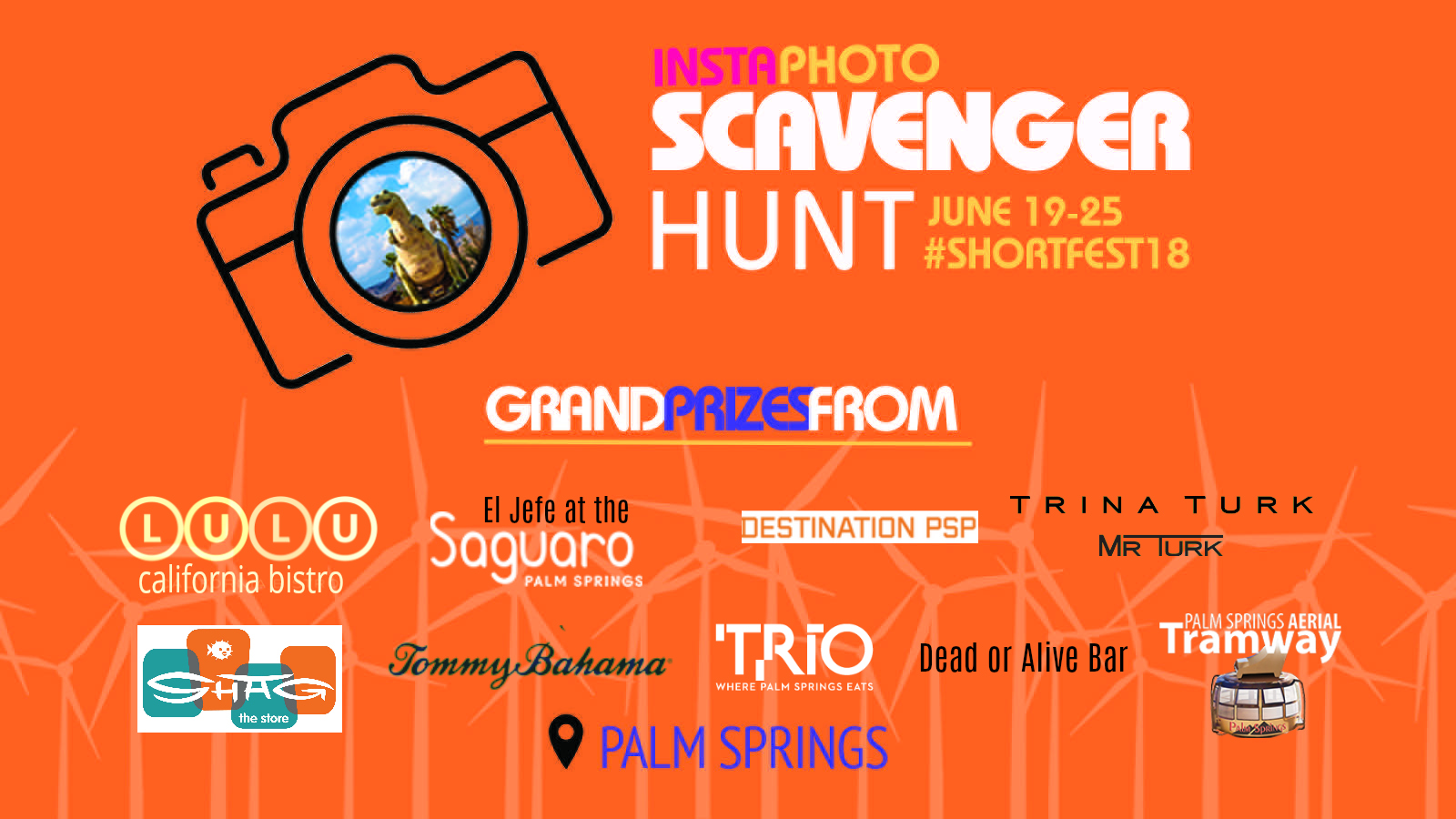 Ready. Set. Snap.
ShortFest 2018 Insta-Photo Scavenger Hunt
Palm Springs Citywide, Grand Prizes Valued at $750+
The Hunt Begins June 19th!
ShortFest 2018 Insta-Photo Scavenger Hunt Rules
BASICS
You must have a smartphone. You must have an Instagram account (that is public at time of posting and specifically on June25, the final day of the Hunt)
WHEN AND WHERE
June 19-25, Palm Springs (citywide)
WHO CAN PLAY?
The hunt is open to everyone
THE HUNT
There are two hunts running simultaneously through the duration of the film festival. You canplay either one or both. There are 10 photos (challenges/clues to complete) required for eachhunt. These photos are either of iconic places/attractions within Palm Springs or of our participating sponsors.
CLUES
Clues will be revealed by 10pm on June 18th. These clues will be revealed on @psfilmfest Instagram Stories (for 24 hours only) and on Instagram Highlights (for the duration of thefestival). The clues will also be revealed on the Palm Springs International Film Festival & ShortFest Facebook Event for the Scavenger Hunt. Clues will be designed to offer a bit of thinking or searching on google, whereas other clues will be tasks to complete.
HOW TO PLAY
After receiving the clues from either the ShortFest Instagram or Facebook account, you may start the hunt. Note: there are two different hunts and you must take all 10 photos of Hunt #1 orHunt #2 to complete the Hunt. You cannot mix and match clues from the different hunts. Visit the 10 clues named on the Scavenger Hunt and take a picture of each one. Pictures should be clear, well lit (or filtered), and be able to answer or achieve the clue or task within the picture. After you have completed taking all 10 photos for one hunt you will then need to upload the photos to your "public" Instagram account. After uploading the first picture, click the "square" onthe bottom right. You are then prompted to add additional pictures. The pictures MUST BE INORDER OF THE CLUES. After you have completed uploading 10 pictures you can add whatever text you want, but make sure to include "I FINISHED SHORTFEST HUNT" After you have finished typing in your text YOU HAVE TO ADD HASHTAGS which will be listed onFacebook and Instagram.
HOW TO WIN
This is not a race. Winners will be chosen based on the accuracy of their photos, uploaded in the correct order, ability to achieve the tasks and solve the clues. They will also be judged onthe appropriate hashtags used. Having fun on the hunt and capturing unique and engagingphotos also helps to win this hunt!
DEADLINE
All photos must be uploaded, tagged, and hash tagged by 12:01 AM June 25.
WINNERS
Winners will be chosen the morning of June 25 before 11am. Winners will be contacted directly via direct message on Instagram and their photos will be uploaded to the ShortFest Instagram Page announcing them as winners. There will be one Grand Prize Winner per hunt.
SUPPORT
For any questions regarding the Scavenger Hunt or tips on how to use Instagram please contact Tiffany at socialmedia@psfilmfest.org