A man wakes up from a coma speaking a fully formed but unrecognizable language, baffling linguistics experts from around the globe.
Program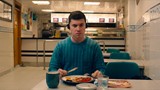 Funny, bittersweet and truthful, these are stories of missed connections, mix ups, language barriers and things left unsaid. It's a wonder we can communicate at all.
Opening Night | Good Vibrations
The official launch of ShortFest 2018! Join us for Good Vibrations, a top-notch grouping of feel-good films to kick off the festival. The screening will be at the Camelot Theatres, followed by a celebration at LULU California Bistro. Feel the vibrations...it's going to be a sweet sensation.
film details
| | |
| --- | --- |
| Country: | Ireland |
| Year: | 2017 |
| Running Time: | 14 minutes |
| Language: | in English |
| Director: | Benjamin Cleary, TJ O'Grady Peyton |
| Producers: | Rebecca Bourke |
| Principal Cast: | TJ O'Grady Peyton, Jarvis Cocker, Daniel Kehoe, Emmet Kirwan, Tiny James |
| Cinematographers: | Burschi Wojnar |
| Editor: | Nathan Nugent |
| Music: | Nica Casal |
| Screenwriter: | Benjamin Cleary |
| Website: | www.waveshortfilm.com |
| Primary Company: | Assembly |