Best friends Lucy and Julie are spending their summer hiding from a terrorizing neighbor until Lucy runs out of her anti-depressants, and they're forced to fight for their lives.
Program
Opening Night | Good Vibrations
The official launch of ShortFest 2018! Join us for Good Vibrations, a top-notch grouping of feel-good films to kick off the festival. The screening will be at the Camelot Theatres, followed by a celebration at LULU California Bistro. Feel the vibrations...it's going to be a sweet sensation.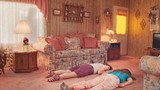 Good fences may make good neighbors, but a lack of good fences makes for great stories! Explore the ups and downs of living side by side with this group of funny, spooky and sweet films.
film details
| | |
| --- | --- |
| Country: | USA |
| Year: | 2017 |
| Running Time: | 9 minutes |
| Director: | Mary Neely |
| Producers: | Shannon Looney, Ruby Kaye, Blake Morgan-Gamber, Mary Neely |
| Principal Cast: | Macey Isaacs, Jenny Leiferman, Bill Kottkamp |
| Cinematographers: | Jeff Leeds Cohn |
| Editor: | Mary Neely |
| Screenwriter: | Macey Isaacs, Jenny Leiferman |
| Website: | https://www.pinktrailershort.com/ |